OXYREVO Hard Hyperbaric Chamber Quest36
--- hIGHER PRESSURE, HARD TYPE DESIGN
The OXYREVO Quest36 hyperbaric chamber is a hard shell hyperbaric oxygen chamber made of durable stainless steel material. With a larger size of 89 inches in length and 36 inches in diameter, it provides ample space for one adult and a child. The chamber can operate at pressures of 1.5/1.6ATA, up to 2.0ATA pressure specially made with more thick material, allowing for faster HBOT treatment times. The chamber is equipped with a large door and two transparent windows, allowing for easy in-out operation and communication. The digital data display screen enhances the user experience, making it the ultimate choice for professional hyperbaric therapy in wellness clinics, therapy centers, and beauty spas. Additionally, it is ideal for athletes of larger sizes or two people.
POLYCARBONATE(FROM BAYER)
Transparent Windows Each End
OxyRevo offers a unique design with two large transparent windows located at the head and foot ends of the hyperbaric oxygen chamber. Made with aviation-grade materials and double-layered for added durability, the windows provide a larger field of view both inside and outside the chamber. Offering a more comfortable experience and reduces feelings of claustrophobia.
New advanced welding process
New advanced welding and splicing processes perfectly fit the metal and polycarbonate together, and the outside is reinforced by an aluminum ring, which is firm, beautiful and won't deform with use. And chamber body welded by 3 pieces of different thickness stainless steel together, thus higher strength for higher pressure resistance at no bending risk for overtime use unlike others do.
In-Out Control Panel and Screen
All the hard hyperbaric chambers have two control panels inside and outside, allows you can operate the chamber yourself, no further assistance required. Also dual digital display screens inside and out show data of Temperature, Humidity, and Oxygen Purity inside the chamber via a highly precise sensor, making your operation more convenient.
Power Failure Safety System
A power failure safety system in the unit gives a safe use if the power shuts off suddenly. The system in the hard chamber will release the pressure automaticlly and slowly when power shuts off suddenly while the users are completely sleeping. The door will be dropped down automaticlly after chamber pressure released, making the chamber even safer to use.
Smart Door Sensor
Operating the hyperbaric chambers with an incompletely closed door poses a safety risk that may result in harm to oneself or damage to the chamber. Our Quest Hard Hyperbaric Chamber addresses this issue by incorporating a sensor lock feature that restricts operation of the chamber to when the door is fully closed. Additionally, there are indicator lights located inside and outside the chamber, further enhancing its safety features.
Working Pressures Adjustable
The OxyRevo pressure switch valve, featuring an exclusive design, allows users to adjust the working pressure of the chamber at various levels ranging from 1.4/1.6/1.8/2.0ATA(or any pressure levels you like to set up) with the simple press of a valve. This unique feature enables all the users to initiate their hyperbaric oxygen therapy at a lower pressure levels and gradually work their way up to higher levels, ensuring a more controlled and comfortable experience for your HBOT treatment in an easy way.
Efficient Air Cooling System
Our efficient and powerful air conditioning system can will remove the humidity inside the chamber, giving dry and clean air to the chamber, it can also cool the air, ensuring a better cool and comfortable experience when using the chamber in the summer. Additionally, this system is electrically driven, eliminating the need for ice water or Freon and requiring zero maintenance. This feature adds to the comfort and overall pleasantness of using the chamber.
Anion Air Purification and Sterilization
The inclusion of an anion generator within the chamber ensures the effective dispersion of anions that are capable of removing 2.5 micron dust particles (PM2.5). This helps to purify the air within the chamber, resulting in a cleaner and fresher environment. Also a sterilizer with water nano technology to remove bacteria and heavy smell, also kill virus, a prefect solution for disinfection for commercial places like therapy centers and clinics.
OxyRevo Quest36 Hard Sitting Hyperbaric Oxygen Chamber System
Contains Everything You will need, your One-Stop HBOT Solution
–Chamber: 
Inside/outside Pressure Gauges/PressureDeflate Valves/Control Panels/Display Screen.
Phone Communication System.
Presure Relief Valves.
Pressure Adjustable Switch.
Reading Lighting Led.
Wheels.
–All-in-one Operating Unit Machine:
1x Oil Free Air Compressor.
1x 10L Oxygen Concentrator.
2x Cooling Machines.
Anion Air Purifier.
Air Sterilizer/Anti-virus System.
Air Filter.
Humidity Water Cotainer.
–Accessories:
Oxygen Mask.
Spare Filters/Fuses.
Air/Oxygen Tubes.
Power Cable.
We are proud of our chamber
We know our Clients' needs and are committed to offering the Best Hyperbaric Oxygen Chamber
Transparent Windows
LARGE, BRIGHT
These windows made of by high stregnth Polycarbonate customized, imported from Germany Bayer brand. Each end are with two windows with air gap design for more durable and longer lifespan, provide ample natural light, creating a bright and enjoyable environment for HBOT therapy, eliminates claustrophobia.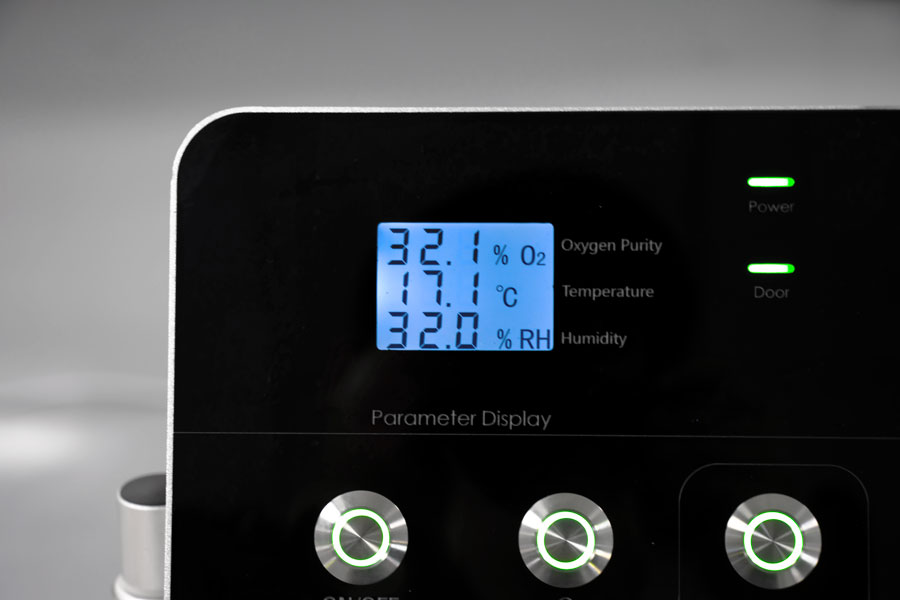 Digital Data Display Screen
SMART, EASY
Two screens INSIDE and OUTSIDE BOTH. Shows data of oxygen chamber like Oxygen Purity, Temperautre, and Humidity. Automaticlly controled, makes your HBOT treatment easy and smart!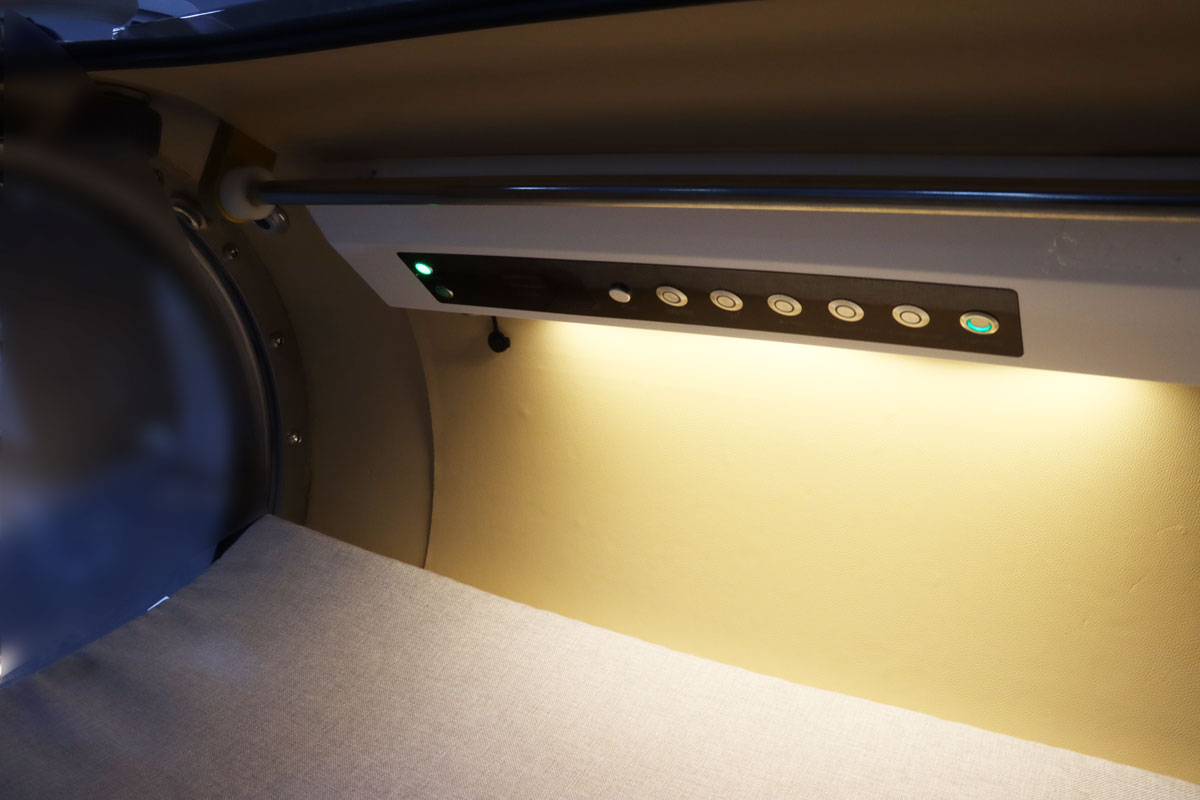 Internal Control Board
SAFE, CONVENIENT
Allows user inside can operate and control the hard oxgyen chamber's evrey step like, pressurization, depressurization, oxygen supply, dehumidification, refrigeration, lighting...Safe and Convenient!
Phone Communication System
EFFICIENT, CLEARLY
A high definition phone communication system without any noise makes users inside and people outside communication simply. NO yelling or walkie talkie. Efficient and Clearly!
Door Safety Sensor
SAFE, SMART
A door safety sensor has been installed in every unit of OxyRevo Hard Hyperbric Chambers' door. Make the user operation more safe, and never a risk of door damaged by wrong operation.
Frequently asked Questions
1.What are installation requirements?
The OxyRevo hard hyperbaric oxygen chamber system installation is very simple and easy, you will just need to connect the wires and tubes from the operating unit to the chamber tank, then start to use your chamber, NO special process required.
2. Can I use the hard hyperbaric chamber myself?
Yes, the OxyRevo hard hyperbaric chambers are available for single person to use and operate by himself via the vavles/control panels/pressure gauges/screens inside and outside both, simply easy and convenient.
Oxyrevo Offers Various Of Hyperbaric Oxygen Chambers Meet Your Need
explore More OXYREVO Hyperbaric Oxygen Chambers