FOUND WHAT PEOPLE SAY ABOUT WHO WE ARE AND WHAT WE DO
"My Husband just got the Apex 32 1.5 ata. He absolutely loves it and the design. He said the pressure switch valve is genius and the chamber design is amazing. He has used a few different ones like the Oxyhealth Vitaerus 320 and prefers OxyRevo with their design and technology. The zipper being curved allows for easy entry and exit. The pressure switch valve lets you start at 1.2 ata then go up comfortably to 1.5 ata with a twist of the valve. It is clearly marked, easy to use and something we haven't seen that any other hyperbaric company has. The company branding on the chamber looks great and the chamber is very well built. We had the pleasure to deal with Tommy and he was amazing! His customer service is great and he is very patient. This company is great and we were so glad to have found Tommy who answered all questions at anytime. He let us know every step of the process after ordering. He would send pics and answer any questions. Hands down amazing company and customer service with really fast shipping. We are very happy! Thank you Tommy!"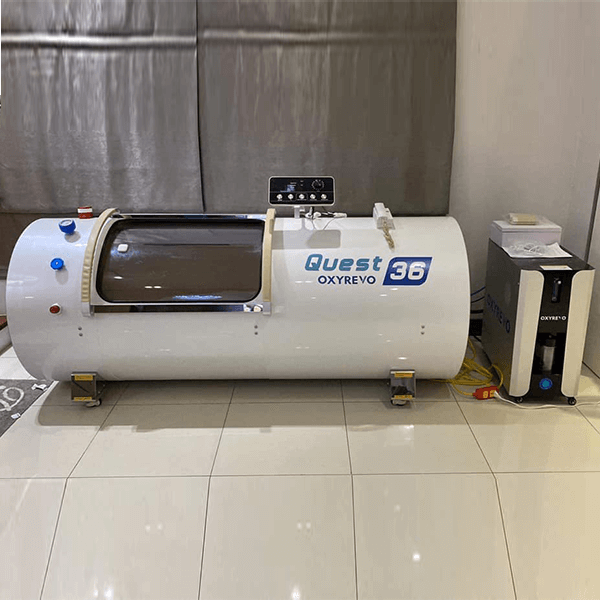 "Purchased a Quest 36 hard chamber after doing lots of research. Very happy with the delivery time and availability of Tommy to talk me through the process. The product is top quality with a very aesthetically pleasing design. I am 185cm and 110kg and there is plenty of space inside. The chamber has been amazing for recovery from my gym sessions and some long standing injuries I had have healed up after around 20 sessions. Highly recommend Oxyrevo if you are looking to purchase a hyperbaric chamber. Thank you"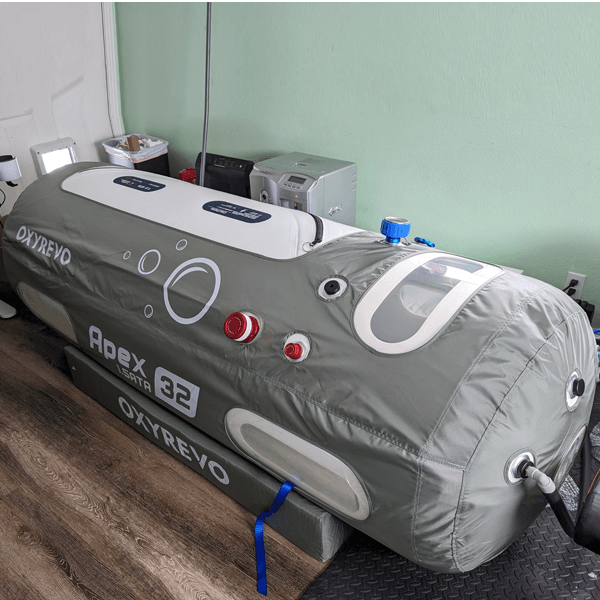 "This is a review of the company. I will do a review of the actual unit once I have had some time to use it. It just arrived today, but I really wanted to get online and thank Tommy for the rockstar customer service! I found this company by googling their website and, being from the US, I was immediately wary of a scam. Especially because this was the best price I found for a 1.5 ATA chamber, by a significant amount. But with the guy I mentioned, Tommy, running the show, he quickly answered all my questions and with a little follow up I was glad I purchased from them! If you are unsure, here is everything I went through to validate the company. First, I contacted them and Tommy got on video call so I could see he was a real person and got a video tour of their showroom/factory. It was impressive! That almost sold me with just that, but I was still wary. So I clicked through their other referrals on Facebook. There's only a couple. But click on the people. They all have history going back for years. You can't fake that. I was convinced after that, but I still had one more thing I did. I googled other references to Oxyrevo and a random result came up for a physical therapy business that mentioned the unit. I called up that business and pretended to be a customer looking for information, and they were legit. I won't mention them directly because I didn't get their permission. But if you want to do the googling, you can find other places, I bet. If you want PM me, I will gladly chat or even video call as well. I am from Utah and I will be glad to get on a video chat and show you I am a real person; I have it, and I am using it. FYI, they also have an option to extend the warranty. Most places offer only two years, but there were a couple that offered more. So I thought it was a confidence booster that they would extend the warranty for a reasonable fee. Even after that, it was still several thousand dollars less than any other 1.5 unit out there. So yeah, totally five star, thumbs up review on the company! I will do an actual review of the unit in a few weeks when I have gone through the treatment recommended by the doc."
"We recently purchased a Forward 90 from OxyRevo to treat my 5 year old son. He has horrible sores and itching from severe eczema. We had been paying $150 per week to have the HBOT treatment at a clinic. So, we decided it was time to buy an in-home unit. The HBOT treatment works wonders, and heals his skin within a day or two. We did intensive research to find the best system for our family, evaluating a dozen or more systems. After deciding on the OxyRevo Forward90, we couldn't be more happy. The unit is extremely high quality, comfortable, and easy to use. We really like that we can enter the chamber with our son, and sit upright while we watch movies together inside during treatment. The customer service that we have received from Tommy has been top notch. He even met with me via video chat to walk me through their showroom and explain the device in person before we bought it. We highly recommend OxyRevo, and our son's skin is as clear as it's ever been!
"I am so grateful I found oxyrevo and tommy! Tommy had amazing patience with me and my questions. I have now had my unit 19 days and my health has steadily become better! I had complications from Cvd and tried many things, after 1.5 years of suffering I bought the apex and use it every other day. In the short time I have enjoyed this product I HAVE MY LIFE BACK! I am forever an hbot client and consider Tommy a friend for life because he essentially saved my life. please feel free to contact me for any questions or help hooking things up."
"Dear Tommy, I am an executive at a large technology company, and represent a major lifestyle society with over 400 members as it's president. My passion is lifestyle, and I have spent considerable time and resources testing and reviewing a number of therapies from a large number of suppliers. Allow me to say that the experience I have had so far working with you, your company and product has been beyond exceptional. First, the customer care I have received from you is second to none. You have been highly responsive no matter the day and time. Provided accurate and sincere information, and have given me the feeling of being looked after. I have not experienced this level of customer care before, and I would like to highlight that it is exemplary and I am ultimately grateful for this. Secondly, the product is of high quality and works better than expected. I have become an avid fan of HBOT therapy since I have received your product and would wholeheartedly recommend this therapy and your company to anybody. Lastly, what your company is doing for people is exceptional as it enables the wider public to have a revolutionary therapy at a highly affordable rate at home. I am writing this letter to wholeheartedly thank you for everything you have done for me, and I am looking forward to spreading this information with my wider circle and continue to work with you. Thank you for your time, effort and contribution to society. Please continue this great mission! Best regards."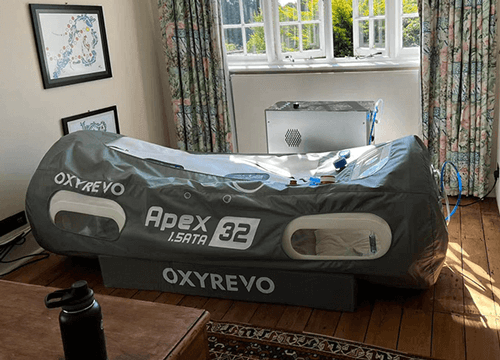 "Bought two of the Apex32 soft shell chambers with all-in-one compressor/air filer/AC. Really good quality build compared to other manufacturers, larger windows to help with claustrophobia. Tommy the sales rep is very helpful with all details and keeps you up to date on the progress or the order and anything needed for customs clearance. Will buy again!"
"Hi Everyone, I would like to thank the team at OxyRevo Hyperbaric Chambers!! I brought a soft OxyRevo Chamber the Largest soft one so i can have another person in with me and it also gives me alot of room to do any thing you want as I can sit up in it turn completely around its very comfortable it's amazing and I am so glad I did that. Tommy is the Manager and he is amazing nothing is ever a problem he answers your questions and he is so very patient. Tommy takes huge pride in this business and helping as many people he can with all the wonderful aspects of an Hyperbaric oxygen chamber. When mine arrived I thought oh my gosh how are we going to put this together. So we started putting it together then there were a couple of things we couldn't work out. I had Tommy on his phone all the way through the process of putting it together it was amazing!!! There are very few companies that would do that it was also on his weekend. There are know words to describe how wonderful the service is from the very first phone call to having it going in your house. Thank you Tommy and the team at OxyRevo!"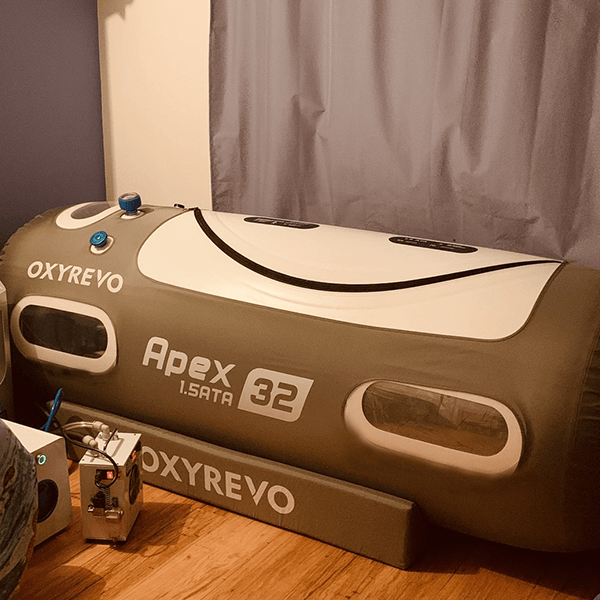 "I bought the Apex32, shipped to Australia. It costs about 50% cheaper than the same one from an australian company. Tommy has been incredibly helpful all the way! The service from this company is second to none! And everyone in my family is using it, and LOVING the results! This is a game changer for health. HBOT is the execrator on your health journey. If you are already on a path to healing, this will speed it up! So grateful to Tommy and his team. I am recommending this company to everyone!😀 Photo of my HBOT in comments."
"Tommy was great to deal with and very attentive answering all our questions and concerns with HBOT. Being in Australia, I was given a virtual tour of the factory and showroom which gave me reassurance it was legitimate. Postage to Australia with FedEx was very quick and cost effective considering the size and weight of the machine. Tommy assisted with the setup and recommendations and using WhatsApp to communicate made it very easy to get support. Thank you and we love our HBOT at home as part of our wellness journey."
"I purchased the OxyRevo Forward90 Hyperbaric chamber because nothing else was working for my various health issues from having type 2 diabetes. I have spent 60 hoursin the chamber so far. My peripheral neuropathy in both legs havimproved. I havemore feeling in my legs, I can walk farther without pain and I caneven run now for shortdistances. My blood sugar level and blood pressure are much better now. I take lessmedication now because of using the Forward90 HBOT chamberreally appreciated thesales rep's (Tommy) assistance during the buying process. He ansvered all my questionsand at the end of our many conversations I felt comfortable withny decision topurchase from OxyRevo.l appreciate all the good health benefits have received so farand I am looking forward to a healthier life for many more years.hanks for letting mebecome hopeful again. All the best! Craig T."
"First the TLDR version: Tommy and OxyRevo are great. They offer a better product for less. Every commitment they made was fulfilled, on time, on budget, exactly as promised. I purchased the Apex 32 for my wife, 3 years post-concussion with limited recovery. She has used it consistently for a few months and seen a truly notable improvement, near complete recovery. Background: I came across HBOT as a last resort for my wife who is now 3 years (slowly) recovering from a major concussion (seen every specialist, continue to do everything locally available). After much research and enquiry, I sent her for a week of HBOT treatment locally to confirm tolerance, then I went hunting for a system of our own. I came across Tommy and OxyRevo. By all accounts, they appeared to have a better product than the alternatives. 1.5ATA, newer design, good components, and significantly lower price. Buying process: Tommy answered my questions. He gave me a videoconference walk-though of the facilities, the product, and even systems being quality tested prior to shipment. He provided documentation, quotes for shipping, and yet was patient with my uncertainty. I eventually placed my order, paid, and a few weeks later had the chamber (packing, shipping, customs, etc). Everything arrived as it should. Assembly was pretty straight-forward with reasonable instructions. Results: We've had the system 5 months, and minus a 6-week gap over Christmas for travel, my wife has used it 60+ minutes almost every day totalling about one hundred hours run-time so far. The therapy is well tolerated, it has become a part of her day, and the results have been significant. This is exactly what she needed to make it back to 'whole'. She now continues to use it because she wants to, rather than needs to. I suspect we will keep it in regular use for years to come. For what it's worth, this experience has motivated a lot of interesting conversations. For anyone I meet with similar circumstances, if they decide that HBOT is for them, I gladly recommend Tommy and OxyRevo!"
"I purchased the OxyRevo Apex32 1.5ata chamber to put at home, I would like to have more oxygen. Very glad with this hamber, it works well. It is sturdy and spacious, I can put my laptop with a mini desk inside to continue to write my book, still have plenty of space inside as you can see, love it! I don't know yet whether there is medical effect, but being inside the chamber is quite nice and comfortable! Great customer service, everything is quick. Worthy to buy, great company and chamber."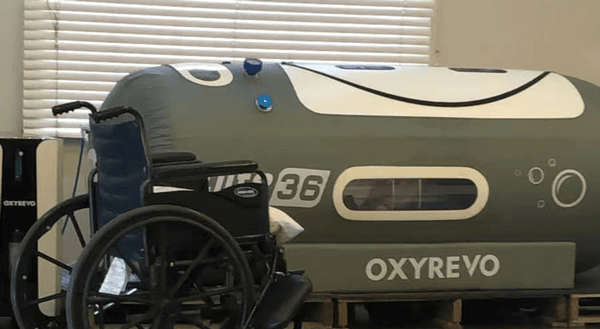 "Very happy with this chamber. Tommy was great with customer service, and I couldn't be happier about the price and warranty. Good company and cheaper than other manufacturers."
"This is a great product. We are so glad we purchased the OxyRevo Forward90. We have been impressed with the quality and the service we received from Tommy. He was very attentive to our questions and concerns. After reviewing the different units, we choose the Forward90 because it allows us to sit upright or laydown. We feel we are benefiting from the health aspectsof HBOT. We have experienced a number of concussionsas well as other serious health issues so using the HBOT is a big part of our health regime. We feel more energyafter using our OxyRevo unit. RH"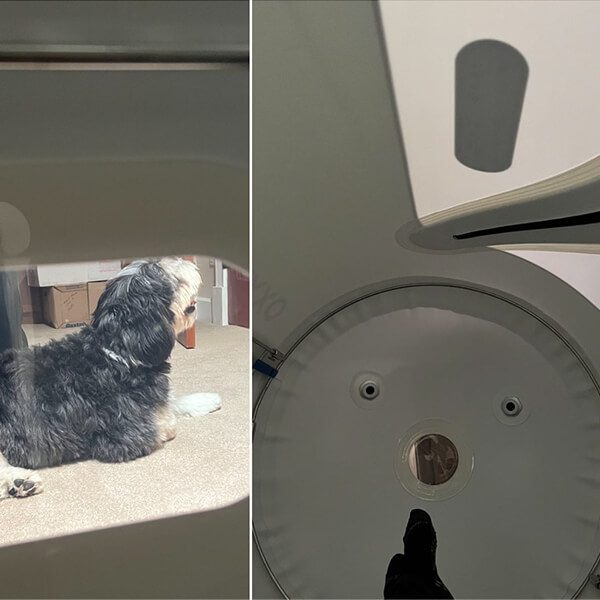 "We LOVE this chamber! It is so easy to use, even if I'm by myself. We have it set up in our clinic for patients, but have mostly used it for ourselves - My son had a concussion, and felt better after his first dive. My father-in-law has Parkinson's and his biggest complaint is the brain fog. Within about an hour of getting out, he feels clear! My dog is the only one who doesn't love that we go in and disappear 😉. So grateful for this company, and this chamber!"
"I am really happy with my Oxyrevo chamber. Tommy was really helpful in helping me assemble it and to get the most out of my chamber. They are well priced for the quality! Thanks!"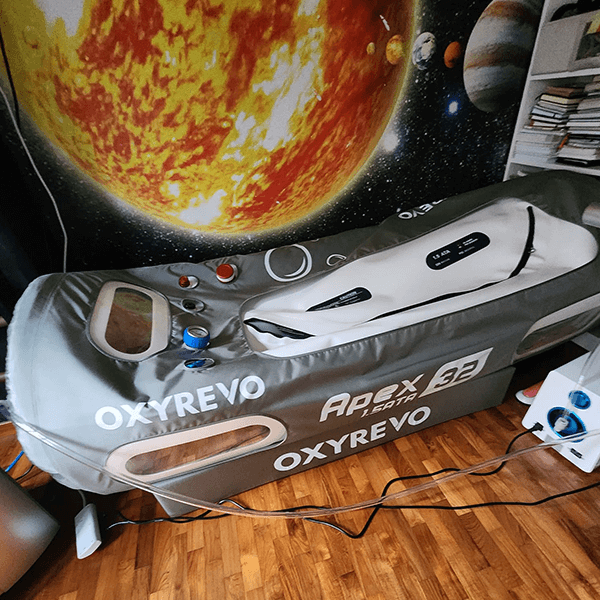 "Very good quality and price, with professional communication and help. Their sales personal will carefully guide you through the process and have experience skills to make a very easy purchase. I'm very happy with the product, its the absolute best for the price and have been very useful already, even though I only used it for a few days. Very happy with my purchase overall."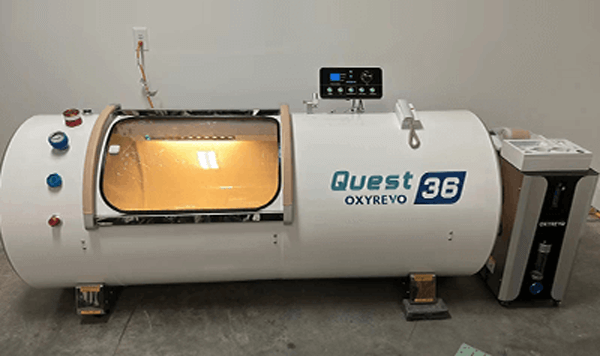 "Always a bit unnerving to purchase equipment from outside the US, so I am particularly thrilled at the customer service and quality of this hard chamber. Investment worth every penny. Go OxyRevo!"
"I received my unit last week and everything is working well. I had a super excellent service from Oxyrevo. My wife and I are enjoying our chamber almost everyday. So glad to have bought that unit, easy to assemble and very confortable when you are inside. And very easy to operate. 👍 May I add that Tommy the sales rep is very helpful with all details and keeps you up to date on the progress or the order and very wise for anything needed for customs clearance. I higly recommend OxyRevo if youa re looking for an excellent unit at an excellent price for a higher quality."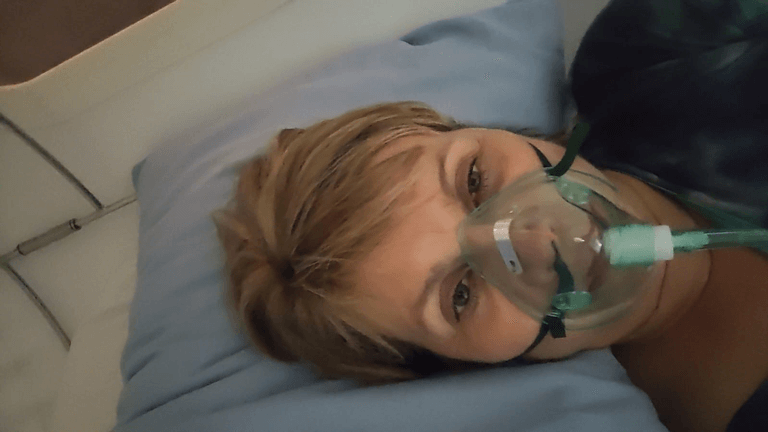 "Tommy has been an excellent sales contact at Oxyrevo. Guided me through the entire process of ordering and also has provided 5 star after sales care to our clinic. Great quality product, great price!"
"Tommy was awesome and the chamber showed up here to the US quickly and works great!"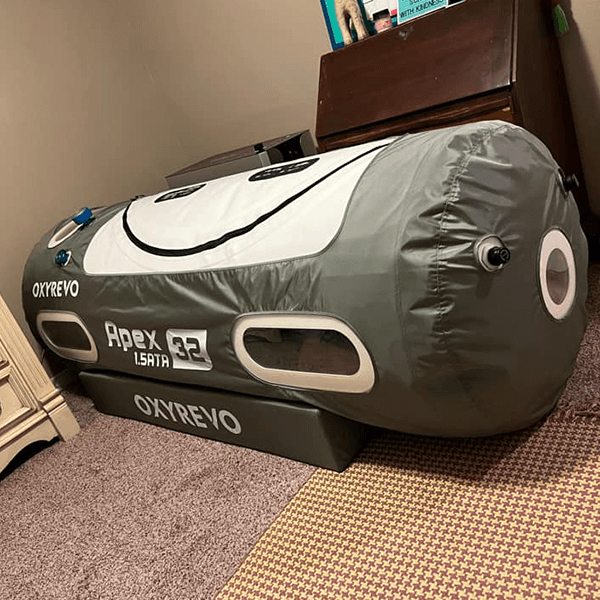 "Outstanding customer service and high quality hyperbaric chamber! Tommy really went above and beyond to make sure our hyperbaric machine was the perfect one for our needs. He is very patient and took the time to explain every detail we needed. He made sure to keep us updated on the tracking and the unit arrived on time. Everything is of very high quality. We are really satisfied with our HBOT Apex 32 and so happy we found Tommy and Oxyrevo! Thank you Tommy, for the best customer service ever. We really appreciate everything you did for us! I am extremely happy with my purchase, Highly recommend!"
"Purchased the wheelchair chamber. Tommy was excellent throughout the sales process and still offers excellent after sales service. Amazing. The chamber is actual value for money. Works great!"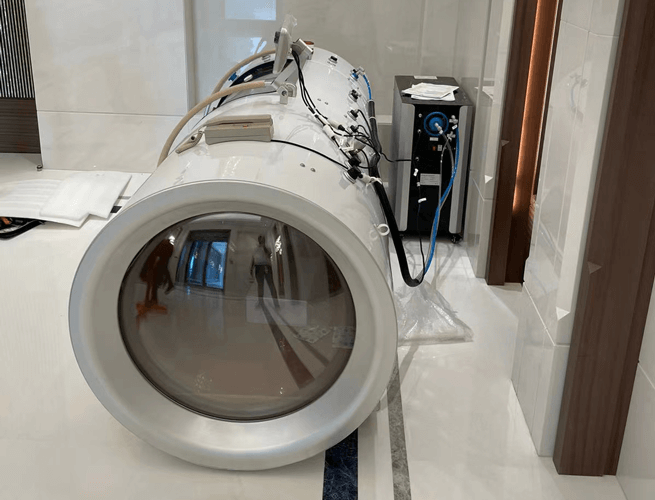 "I was looking for a hard chamber for my health treatment. I came across and found they have a beautiful hard chamber with two big transparency windows. I had a littie bit claustrophobic, but with this unit with larger door and windows, I feel entirely comfortable inside. The hard chamber has two control panels inside and outside, so i'm ok to use my chamber myself each time, not an issue at all. And you can also ajust the pressure from lower to higher by a knob design they made inside the chamber, very convenient and smart design. Highly recommend this company!"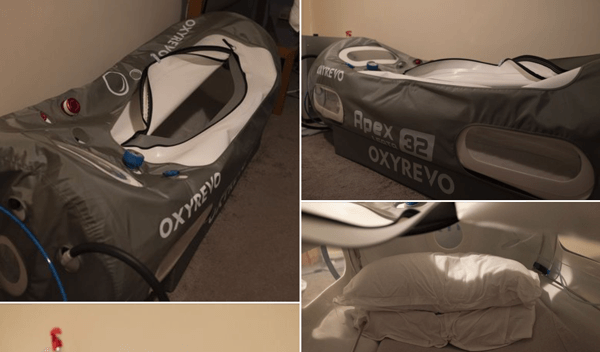 "Just a little post about a hyperbaric oxygen therapy chamber l recently bought. Hyperbaricoxygen therapy (HBOT) has a host of potential benefits, too numerous to mention, mainlybecause the basic mechanism of HBOT is to significantly increase oxygenation of all cells in thebody. Anyway, I recommend it for anyone, from people with chronic health issues to sportspeople. Having checked out most of the available sellers, one can recommend above others isoxyrevo.com/ Tommy (the sales guy there) is excellent in terms of providing clear info about thechambers and purchase and delivery options. The quality of the build of their chambers is, IMOsuperior to most others (having bought one from another supplier) while their prices are equivalent. Anyway, this ISN'T A sales pitch, but rather to highlight the benefits of hyperbaric oxygen therapymainly because l and my family and friends have seen the benefits. I'm just including a referenceto oxyrevo because they are the best I've come across. Here are some pics of the oxyrevo chamber I recently bought."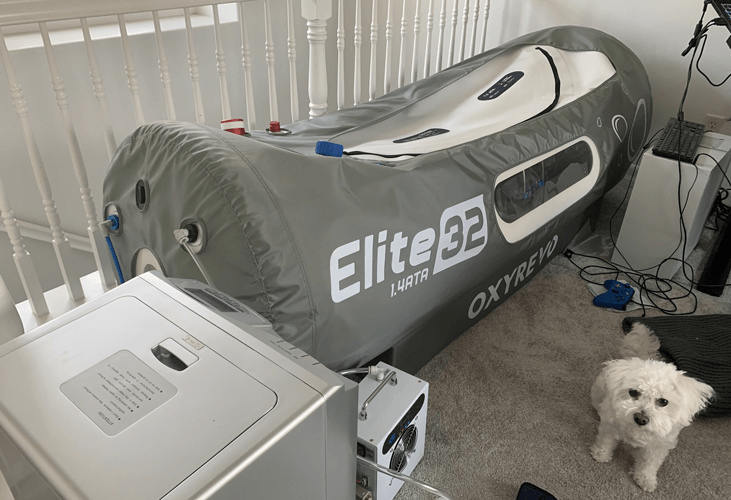 "OxyRevo chambers are the best, and Tommy's vast experience in the HBOT manufacturing and sales sector contribute to making this company my top choice to work with."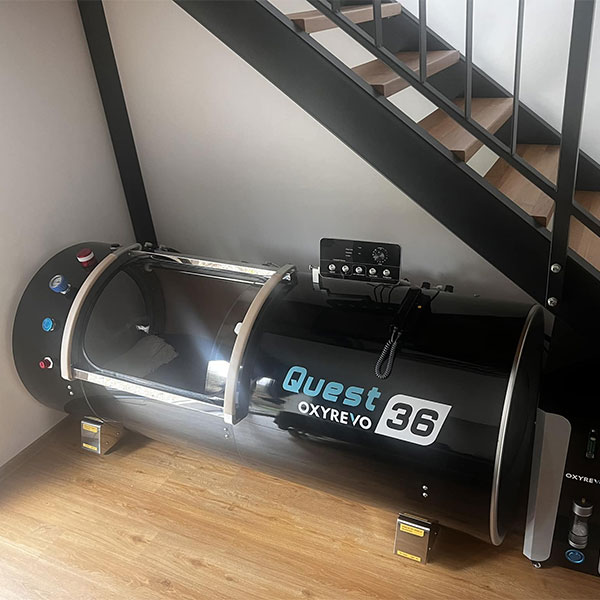 "I would like to share our experience with OxyRevo Hyperbaric. First of all: Outstanding customer service and high quality hyperbaric chamber! Before we ordered we had a ton of questions. Tommy really went above and beyond to make sure everything that we were answering about was cleared 🙂. He was available all the time and this is something, that we were really surprised about. Our hyperbaric machine is perfect, we are using it for ourselves and for our clients. During the transport, a little bottle on oxygen tank broke and Tommy immediately sent a new one. Fantastic! When we received the chamber we were a bit unsure, so we contacted him and he was very patient and took the time to explain every detail we needed. We are in love with OxyRevo chambers and we want to spread it among other people, because it is the best thing that you can have. We are extremely happy with the purchase, and thank you Tommy for everything!"
Find More and Share your voice